Peninsula Soccer FC is hosting a Bottle Drive on Sept. 9 to help fundraise for the final touches of the two new turf fields at Blue Heron Park, construction of which has been delayed until early October.
"We were hoping to be completed this week but now the completion date is pushed back. The turf is in production and going to be shipped in a couple of weeks," Melissa Drolet, vice-president of Peninsula Soccer FC said.
"Now we're basically fundraising for the last little bit. We got funding from all three municipalities, North Saanich, Sidney and Central Saanich, which is great, and that covers the construction of the field and the turf and the fencing that goes around it. Now the next little bit of things that we need is wheels on our nets because on turfs you cannot drag the nets across, and we also are fundraising for covered benches."
The bottle drive will take place from 9 a.m. to 1 p.m. in the Panorama Rec Centre parking lot (arena side) in addition to an ongoing bottle drop-off box at Blue Heron. Drolet said they are accepting any type of bottle that is returnable for money, including glass and plastic.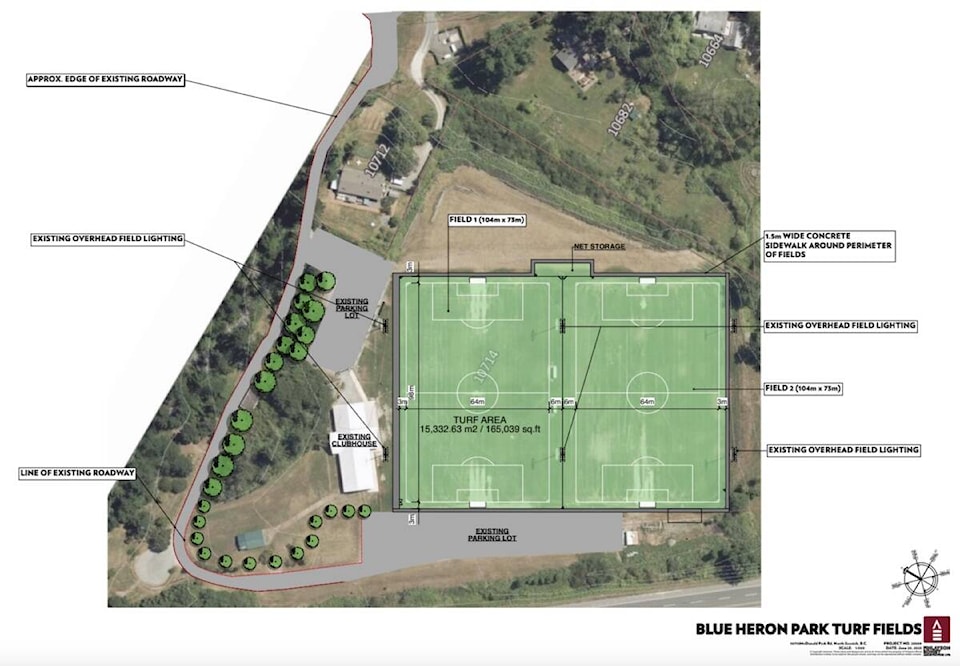 Drolet said another priority is to get local companies involved in their sponsorship program, where companies can purchase banners for the field.
The turf project is the result of 15 years of lobbying from the Peninsula Soccer FC, who always had the intent to eventually convert the fields-turned-soccer pitches into turf.
The renovations, which cost close to two million, make it no longer necessary to close the fields in winter or when they get significantly wet, which had resulted in approximately 150 hours of cancelled sports events each year.
READ MORE: 'Evening the playing field': Saanich Peninsula to get two turf fields in $1.5M project
"Everybody is very excited, I think they recognize that it was a need for the local soccer team to have turf field and I think that they're going to be very popular. All the other teams that come and play against us, they're going to be very happy on there," said Drolet.
"People are going to have to get used to playing soccer in bad weather, it's not something Peninsula Soccer players are used to because usually it's just cancelled," Drolet joked.
Drolet said they are also in the process of working out a deal so that Tier 1 Youth Soccer Games will play out of Blue Heron. In the past, Tier 1 home games were played on rented fields, typically at UVic.
Once the new fields are in operation, adult games will showcase every Friday night with the concession open.
Construction delays will not delay the start of the season. Instead, for the first month, other local fields will be used including Iroquois Park in Sidney and Centennial Park in Central Saanich.
"It's a long time coming. It's a one-month delay but we've been waiting for this for over 10 years, so what's one month?" Drolet said.