B.C.'s entertainment hall-of-famers are featured on a new self-guided walking tour of Vancouver's StarWalk, where rock band Loverboy is among the latest inductees.
Bios for Bryan Adams, Sarah McLachlan, Michael J. Fox, Dal Richards and close to 200 others are now found on the VanWalks tour app (vanwalks.ca), in partnership with BC Entertainment Hall of Fame.
For free along Granville Street, from Robson to Nelson, smartphone users can virtually expand sections of the sidewalk stars to read more about each inductee. Users can also start a tour by searching for a name and directions to the star placement.
"Entertainment in B.C. needs to regain its swagger, and the bronze stars on Granville Street are a big part of that," Bill Allman, president of BC Entertainment Hall of Fame, said in a news release Wednesday, June 7.
"For a relatively small city, Vancouver alone has produced an amazing amount of international and national talent," Allman added. "People commemorated in the sidewalk have shaped not only Canadian culture, but worldwide entertainment. The VanWalks app is the perfect tool for everyone to use to learn about these amazing entertainers and builders of a vibrant industry."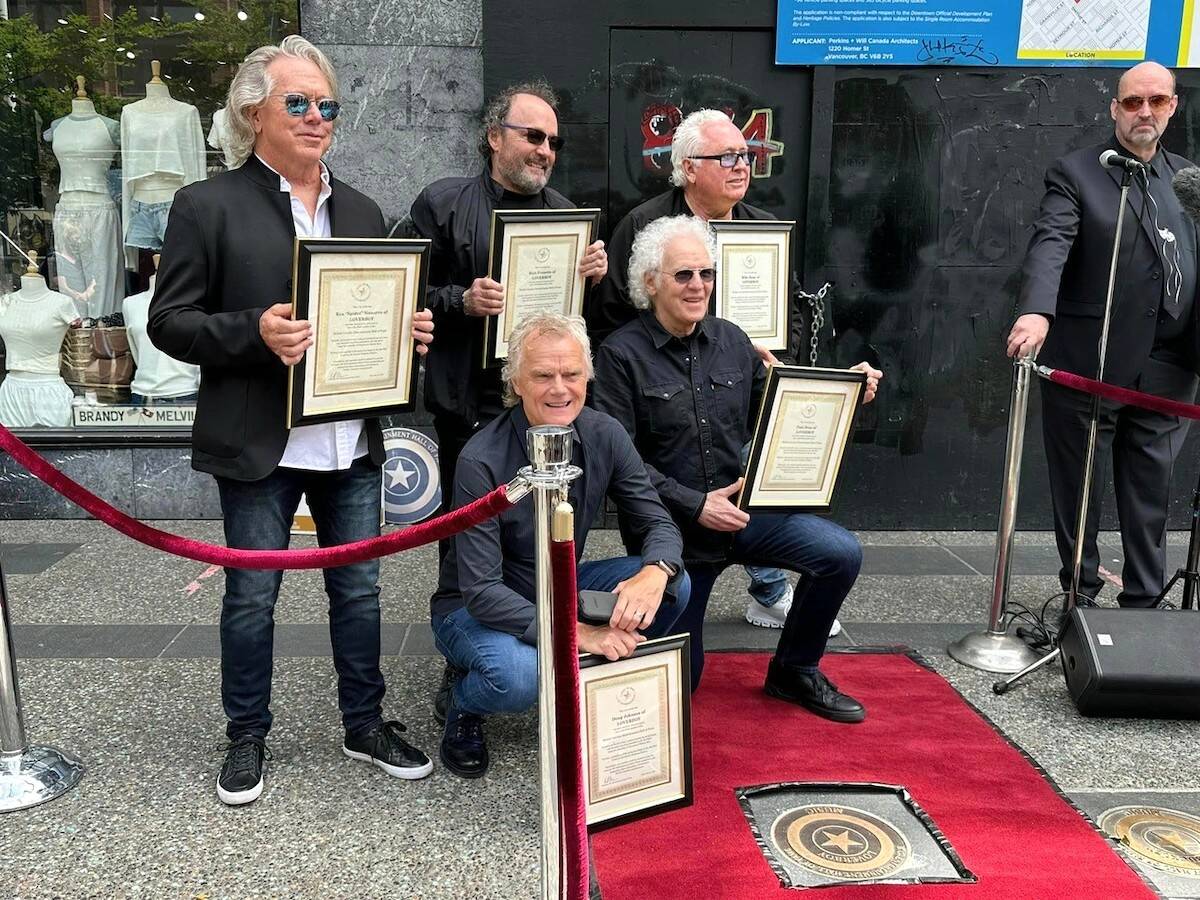 On Thursday (June 15), members of Loverboy attended their StarWalk induction ceremony in the 800-block of Granville Street. The band had several hit songs starting in the early 1980s, including "Turn Me Loose" and "The Kid is Hot Tonite."
A similar ceremony will welcome Seeds of Time/Prism drummer Rocket Norton to the BC Entertainment Hall of Fame on Thursday, June 22. Norton later managed the Vogue Theatre and works to bring international artists to Vancouver concert stages.
The band Nickelback will also be made a StarWalk attraction this year, with details to come.
StarWalk entertainers with ties to Surrey include jazz singer Eleanor Collins, filmmaker R. Paul Dhillon, bhangra music star Jazzy B (aka Jaswinder Singh Bains) and others.
The BC Entertainment Hall of Fame was established in 1992 to honour "high-profile individuals who have made a significant contribution to the entertainment industry in British Columbia." Today, the hall honours more than 300 entertainers in two categories (StarWalk, StarMeritus).
Chris King, founder of VanWalks, said he's thrilled to launch the content collaboration with BC Entertainment Hall of Fame, the latest addition to the company's tours, some downloaded for a fee. Other destinations in Vancouver include Gastown, Chinatown, Stanley Park Seawall and Coal Harbour.
"Seeing the names of our most well-known and well-loved public figures on the StarWalk is an important part of any trip to Granville Street," King said. "Having the StarWalks route in VanWalks will allow people to easily learn more about their most beloved entertainers and to discover new favourites."
---

tom.zillich@surreynowleader.com
Like us on Facebook Follow us on Instagram and follow Tom on Twitter