It's a rite of passage for Grade 5 students at Hillcrest Elementary: carving a pumpkin for the annual Berwick House Great Pumpkin Walk.
"It's historical — the younger kids look forward to doing it when they grow up, and the Grade 5 students have a lot of fun expressing themselves," says Berwick House Active Living Manager Kendra King.
Berwick provides the pumpkins, and after Hillcrest students have carved them into cats, monsters and other creative creatures, the pumpkins are brought back to Berwick House for two evenings of Halloween fun. The 50-60 pumpkins are displayed in the Berwick House garden alongside a growing collection of Halloween decorations include a giant-sized skeleton and a projector with singing pumpkins, and the community is invited to take part.
"It's really such a fun evening. Kids in costume running around the gardens, volunteer residents handing out goody bags and making sure all the pumpkins stay lit. Our maintenance team does a great job setting up the lights and displays," King says.

The event typically receives 300 to 400 visitors each evening, regardless of weather.
"Last year it poured rain on one of the nights and we still had about 300 people come through. In 2020 we did a drive-through event and thought we might only get a few families, but so many people showed up we had to go out and buy more candy!"
It's one of many partnerships between Hillcrest Elementary and Berwick House, uniting generations and giving residents of the retirement community a chance to show off their home to family and neighbours.
This year's Great Pumpkin Walk takes place Oct. 25 and Oct. 26 at Berwick House, 4062 Shelbourne St. in Gordon Head. The event is free to attend, and visitors are welcome between 5:30 p.m. and 8 p.m.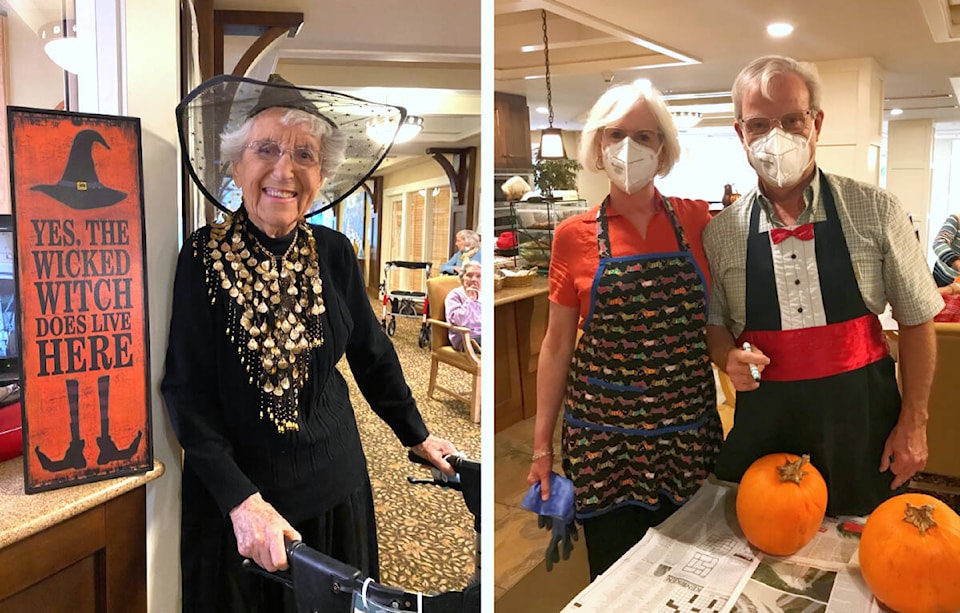 Halloween fun at Berwick Royal Oak
Over at Berwick Royal Oak, residents have their own special bond with students at Strawberry Vale Elementary, and 'honorary grandparents' will be hosting a private pumpkin walk on the back patio for students and their families.
"Autumn and Halloween gives us an opportunity to do all kinds of things," says Berwick Royal Oak Active Living Manager Rachelle Reath. "We'll have a big pumpkin carving event and a costume parade for staff and residents. We'll also head out to Galey Farms to ride the railway and try the corn maze, and we're organizing a Haunted Victoria walking tour with John Adams."
While speaking to Saanich News, Reath pulled up a list of Halloween Spooktacular Cocktails for their cocktail hour on Oct. 31. Halloween sangria, a pumpkin juice hot toddy, Jekyll and Gin and Witches' Brew Lemonade all made her shortlist, but the final menu will be decided at the end of the month.
"We put together a full activity calendar, and then residents are welcome to pick and choose the events that appeal to them," Reath says.
To book a tour of Berwick House, contact Linda McDonald at 250-853-5492; to book a tour of Berwick Royal Oak contact Kathy McAree at 250-419-4012. Follow Berwick on Facebook and Instagram for the latest updates.